Back to all posts
Posted on
Heart Week February 13-16, 2023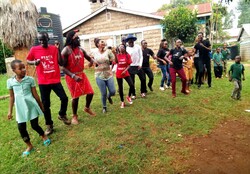 In February, we traditionally have Mufu Day and Heart Week. This year, Mufu Day will be on Thursday, February 16. The focus of the day, and in fact the whole of Heart week, is on raising funds for an orphanage called the Mufu Home in Kenya.
We are looking forward to having a full heart week and MUFU day, as we have not been able to do in the previous few years.  Monday will kick off with a full school pancake breakfast, and throughout the week there will be activities such as a coin race and games.  MUFU day (Thursday) will feature the OlymPICS for Elementary, and a carnival run by Jr. High in the afternoon. Parents are welcome to join us! 
Check out next week's newsletter for details on the schedule, all the events, the rummage sale, and the items and prices available in the concession stand.